COHIBA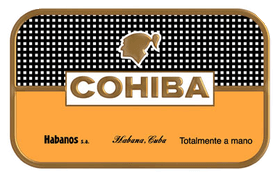 History of COHIBA
In 1492, during Columbus's first voyage to the "new world", he visited the island of Cuba. His sailors were introduced to "Cohíba" by the island natives, a bunch of dried leaves that were smoked in a pipe called a "Tobacco". In 1982, 3 types of Cohíba Cuban cigars were introduced to non-diplomats: the Lanceros, the Coronas Especiales and the Panetelas. 3 more vitolas were added to the brand in 1989: the Espléndidos, the Robustos and the Exquisitos, completing what is known as "La Línea Clásica". 5 more vitolas were added in 1992 creating the "Linea 1492": the Siglo I, II, III, IV and V. Cohíba remains the "King of the Cubans". Only the finest tobacco leaves are used to create the various types of Cohíba cigars. A distinct bean taste has been attributed to Cohíbas, however I would say the common factor amongst the Cohíba family is the strong nature of all the cigars. This is not a beginners brand.
COHIBA
Piramides Extra TUBOS
Box of 3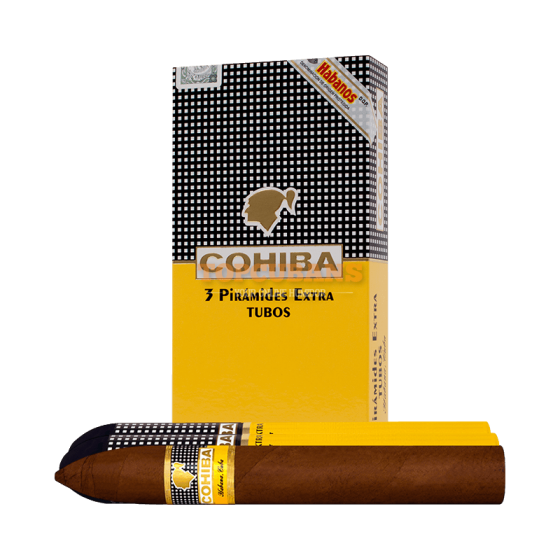 Ring Gauge: 54
Cigar length: 160 mm / 6.3'
Strength: Medium to Full Body
Vitola: Torpedo
Introducing the new Cohiba Piramides Extra, the only regular production Torpedo shape in the Cohiba line up. Enjoy this fabulous cigar today from the TopCubans.com humidor. Since 2006 we have been waiting for this favourite of shapes to make its presence within the Cohiba family, and now we have it back. Superb size to really make one feel like the king!
These will become the new must-have cigar over the next few years so be among the first to sample and see what the fuss is about. Deep strength in this cigar, with a grand finish! Bottoms up everyone!
Even better in Tubos format!