COHIBA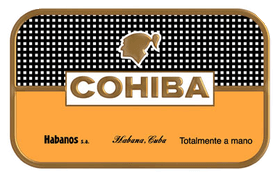 History of COHIBA
In 1492, during Columbus's first voyage to the "new world", he visited the island of Cuba. His sailors were introduced to "Cohíba" by the island natives, a bunch of dried leaves that were smoked in a pipe called a "Tobacco". In 1982, 3 types of Cohíba Cuban cigars were introduced to non-diplomats: the Lanceros, the Coronas Especiales and the Panetelas. 3 more vitolas were added to the brand in 1989: the Espléndidos, the Robustos and the Exquisitos, completing what is known as "La Línea Clásica". 5 more vitolas were added in 1992 creating the "Linea 1492": the Siglo I, II, III, IV and V. Cohíba remains the "King of the Cubans". Only the finest tobacco leaves are used to create the various types of Cohíba cigars. A distinct bean taste has been attributed to Cohíbas, however I would say the common factor amongst the Cohíba family is the strong nature of all the cigars. This is not a beginners brand.
COHIBA
Siglo IV
Box of 25
Ring Gauge: 46
Cigar length: 143 mm / 5.63'
Strength: Medium
Vitola: Corona Gorda
If you are a fan of the Corona Gorda vitola look no further than the Siglo IV! Cohiba have been consistent with the quality of this balletic cigar. The prelight aromas of the Siglo IV are worth a sniff, close your eyes and be transported to drying racks full of Vegas Primera tobacco ebbing out their sweet musky Ora. When you smoke the cigar it dances on the taste buds, twirls on the tongue, pirouettes to its culmination in a sleek and all encompassing manner. There is grace in this stogie, not just in the intricate dance performed by the flavours, but in its design and construction. The wrapper hugs the binder and the bunch in a solid but liberating manner, the evenly spaced and weighted bunch has clear and generous suction. Cigars usually remind me of countries I have visited and people I have met, the Siglo IV reminds me of home and an old friend. Try some Kerala sea dishes with this Cohiba there is a synergy of flavours not to be missed!