COHIBA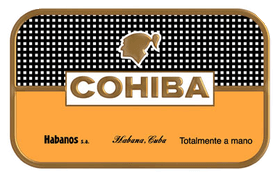 History of COHIBA
In 1492, during Columbus's first voyage to the "new world", he visited the island of Cuba. His sailors were introduced to "Cohíba" by the island natives, a bunch of dried leaves that were smoked in a pipe called a "Tobacco". In 1982, 3 types of Cohíba Cuban cigars were introduced to non-diplomats: the Lanceros, the Coronas Especiales and the Panetelas. 3 more vitolas were added to the brand in 1989: the Espléndidos, the Robustos and the Exquisitos, completing what is known as "La Línea Clásica". 5 more vitolas were added in 1992 creating the "Linea 1492": the Siglo I, II, III, IV and V. Cohíba remains the "King of the Cubans". Only the finest tobacco leaves are used to create the various types of Cohíba cigars. A distinct bean taste has been attributed to Cohíbas, however I would say the common factor amongst the Cohíba family is the strong nature of all the cigars. This is not a beginners brand.
COHIBA
Genios Maduro 5
Box of 25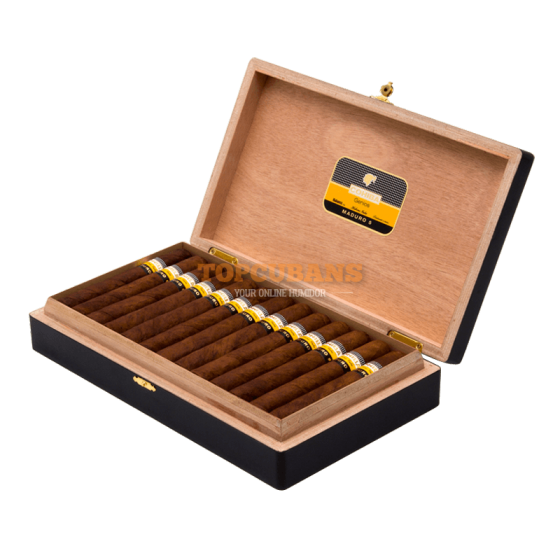 Ring Gauge: 52
Cigar length: 140 mm / 5.51'
Strength: Medium to Full Body
Vitola: Other
I love to cook. Breakfast, lunch, supper, starters, mains, desserts. When I cook, I have noticed that if my dish is left over night it has more depth in taste. The flavours that were there the day before have doubled in potency and the play between the various ingredients is amplified. I end up with a multi layered, well defined dish. I surprise myself sometimes! Genios are new, apart from their wrappers that have been aged for five years and guarantee a Maduro finish, therefore they are raw and need to be aged to double the potency, develop the interplay between the ingredients so that what you end up with after ageing is a multi layered, well defined cigar. Yet, even at this early stage in its no doubt long life the Genios Maduro 5 presents itself as a genius, its beany and roasted tobacco combo coupled with its 'stand up, take note' ever evolving power, make this Cohiba a must have for any afcionados.