COHIBA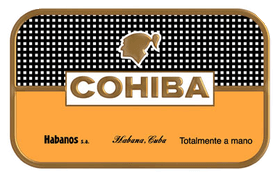 History of COHIBA
In 1492, during Columbus's first voyage to the "new world", he visited the island of Cuba. His sailors were introduced to "Cohíba" by the island natives, a bunch of dried leaves that were smoked in a pipe called a "Tobacco". In 1982, 3 types of Cohíba Cuban cigars were introduced to non-diplomats: the Lanceros, the Coronas Especiales and the Panetelas. 3 more vitolas were added to the brand in 1989: the Espléndidos, the Robustos and the Exquisitos, completing what is known as "La Línea Clásica". 5 more vitolas were added in 1992 creating the "Linea 1492": the Siglo I, II, III, IV and V. Cohíba remains the "King of the Cubans". Only the finest tobacco leaves are used to create the various types of Cohíba cigars. A distinct bean taste has been attributed to Cohíbas, however I would say the common factor amongst the Cohíba family is the strong nature of all the cigars. This is not a beginners brand.
COHIBA
Exquisitos
Box of 5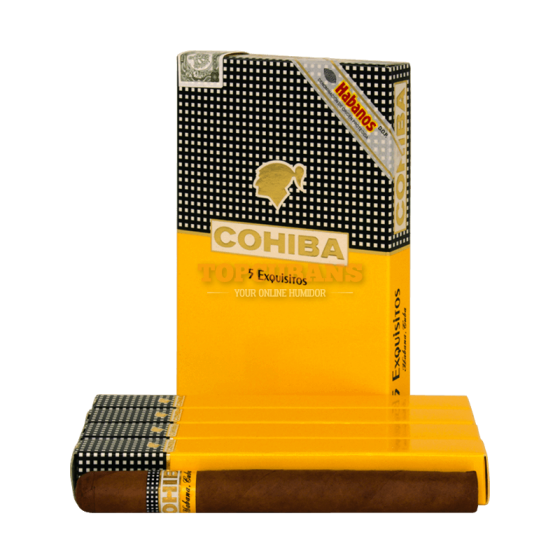 Ring Gauge: 33
Cigar length: 126 mm / 4.96'
Strength: Medium
Vitola: Other
Rick says he is a modern smoker, whatever that means! What I think he means is that he is so caught up in modern living i.e Internet, mobile phones, GPS guidance and numerous other technological gadgets that he believes things are only good when convenient or convenient when good. Rick wants a quick fix but he wants a quality quick fix to. Exquisitos are most certainly a modern smoke packed full of quick burning and spicy tobacco in a manageable size. The floral taste of the cigar is conveniently inoffensive which of course the modern smoker adheres to. Time is money they say, however for the modern smoker time is time and the least time spent smoking a huge cigar the better. The Exquisitos take a nice round twenty minutes to savor and can fit between meetings, they can be slipped nicely into your blazer pocket and they don't stink up the place!!