COHIBA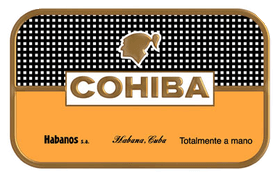 History of COHIBA
In 1492, during Columbus's first voyage to the "new world", he visited the island of Cuba. His sailors were introduced to "Cohíba" by the island natives, a bunch of dried leaves that were smoked in a pipe called a "Tobacco". In 1982, 3 types of Cohíba Cuban cigars were introduced to non-diplomats: the Lanceros, the Coronas Especiales and the Panetelas. 3 more vitolas were added to the brand in 1989: the Espléndidos, the Robustos and the Exquisitos, completing what is known as "La Línea Clásica". 5 more vitolas were added in 1992 creating the "Linea 1492": the Siglo I, II, III, IV and V. Cohíba remains the "King of the Cubans". Only the finest tobacco leaves are used to create the various types of Cohíba cigars. A distinct bean taste has been attributed to Cohíbas, however I would say the common factor amongst the Cohíba family is the strong nature of all the cigars. This is not a beginners brand.
COHIBA
Siglo VI
Box of 25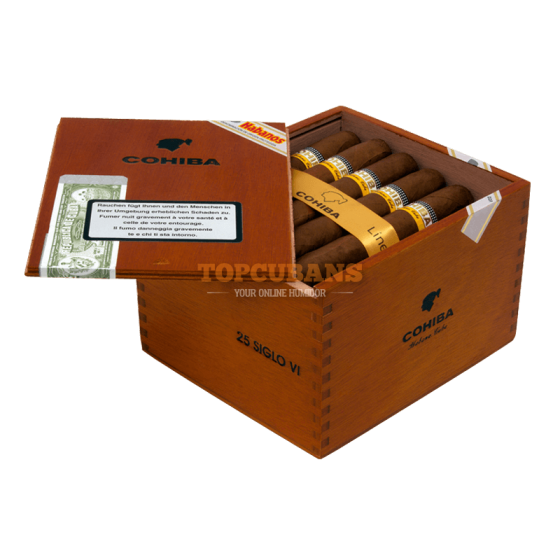 Ring Gauge: 52
Cigar length: 150 mm / 5.91'
Strength: Medium to Full Body
Vitola: Robusto
Legends exist not by chance, nor by struggle, legends exist because it is natures law. The Siglo VI is in the throes of becoming a legend and is without doubt one of the best cigars rolled in Cuba. I was able to taste one of these in Cuba straight from the Torcedors rolling tableta, I remember thinking this is young but what awe inspiring potential it has! I looked at the young girl who had rolled this phenomenal masterpiece, she could only have been 18 or 19 years old, she blew on her fingers and started rolling another Siglo VI. Amazing! Later on I tasted a matured version of the stick and was flabbergasted, it was so creamy and smooth it nearly put me into an inebriated sleep. In that sleep I would have had dreams of spice and soil, wood and oranges, I would have seen lush tropical vegetation, the crisp Caribbean sea and the tobacco fields, the beautiful process of sowing and harvesting the sacred plant of the native indigenous people. Ah Cuba, my home from home! Then I thought back to the young girl who rolled the masterpiece, I remember her blowing on her fingers like a concert pianist about to perform. So to re-cap, the Siglo VI, a cigar made from mother natures prime cuts and rolled by the fingers of a concert pianist! A true Legend! A must smoke for true cigar lovers!