COHIBA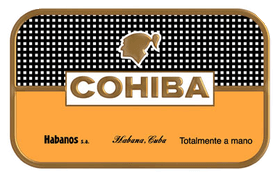 History of COHIBA
In 1492, during Columbus's first voyage to the "new world", he visited the island of Cuba. His sailors were introduced to "Cohíba" by the island natives, a bunch of dried leaves that were smoked in a pipe called a "Tobacco". In 1982, 3 types of Cohíba Cuban cigars were introduced to non-diplomats: the Lanceros, the Coronas Especiales and the Panetelas. 3 more vitolas were added to the brand in 1989: the Espléndidos, the Robustos and the Exquisitos, completing what is known as "La Línea Clásica". 5 more vitolas were added in 1992 creating the "Linea 1492": the Siglo I, II, III, IV and V. Cohíba remains the "King of the Cubans". Only the finest tobacco leaves are used to create the various types of Cohíba cigars. A distinct bean taste has been attributed to Cohíbas, however I would say the common factor amongst the Cohíba family is the strong nature of all the cigars. This is not a beginners brand.


Ring Gauge: 47
Cigar length: 178 mm / 7.01'
I never feel at home without a hearty meal under my belt, whether it be simple rustic peasant food or Michelin star quality culinary exploits, food is the fruit of life! The Father of Cohibas, the Esplendidos goes with the food I like, red meats, creams, herbs, red wines, and new tastes are formed in the mouth when the cigar and the food are mingled. The spice of the Cuban cigar lifts out the matte flavors of the food and gives them three dimensional qualities and a density and depth that was unimaginable. So when you sit down on your porch, or balcony, or by your fire after that hearty meal take your time and smoke one of these classic Habanos as a digestive and relish that time. Topcubans.com advises beginners to refrain from attempting to smoke one of these Esplendidos until they have more experience in the art of smoking.