COHIBA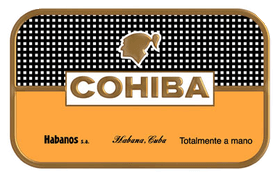 History of COHIBA
In 1492, during Columbus's first voyage to the "new world", he visited the island of Cuba. His sailors were introduced to "Cohíba" by the island natives, a bunch of dried leaves that were smoked in a pipe called a "Tobacco". In 1982, 3 types of Cohíba Cuban cigars were introduced to non-diplomats: the Lanceros, the Coronas Especiales and the Panetelas. 3 more vitolas were added to the brand in 1989: the Espléndidos, the Robustos and the Exquisitos, completing what is known as "La Línea Clásica". 5 more vitolas were added in 1992 creating the "Linea 1492": the Siglo I, II, III, IV and V. Cohíba remains the "King of the Cubans". Only the finest tobacco leaves are used to create the various types of Cohíba cigars. A distinct bean taste has been attributed to Cohíbas, however I would say the common factor amongst the Cohíba family is the strong nature of all the cigars. This is not a beginners brand.
COHIBA
Siglo V (AGED MOS OCT09)
Box of 25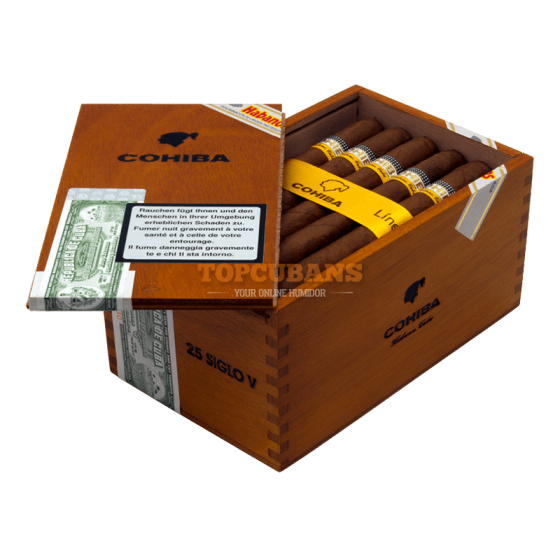 Ring Gauge: 43
Taste: Spicy
Cigar length: 170 mm / 6.69'
Strength: Medium
Vitola: Lonsdale
Here at Topcubans.com we like patience because patience equates to quality, it does take three years to make a cigar from scratch! Patience is a mantra in the world of quality cigars and that is why we have waited 8 years to bring these 2009 specials to market! This is a pure Lonsdale with outstanding construction and a tender, tactile look. I once spent six hours with a Siglo V in my hand because it felt so right, I couldn't pryse my fingers from the stick for fear of loosing its cushioned, therapeutic touch. When I lit that cigar I felt like it had become part of me.