COHIBA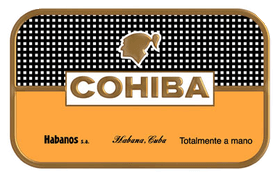 History of COHIBA
In 1492, during Columbus's first voyage to the "new world", he visited the island of Cuba. His sailors were introduced to "Cohíba" by the island natives, a bunch of dried leaves that were smoked in a pipe called a "Tobacco". In 1982, 3 types of Cohíba Cuban cigars were introduced to non-diplomats: the Lanceros, the Coronas Especiales and the Panetelas. 3 more vitolas were added to the brand in 1989: the Espléndidos, the Robustos and the Exquisitos, completing what is known as "La Línea Clásica". 5 more vitolas were added in 1992 creating the "Linea 1492": the Siglo I, II, III, IV and V. Cohíba remains the "King of the Cubans". Only the finest tobacco leaves are used to create the various types of Cohíba cigars. A distinct bean taste has been attributed to Cohíbas, however I would say the common factor amongst the Cohíba family is the strong nature of all the cigars. This is not a beginners brand.
COHIBA
Secretos Maduro 5
Box of 25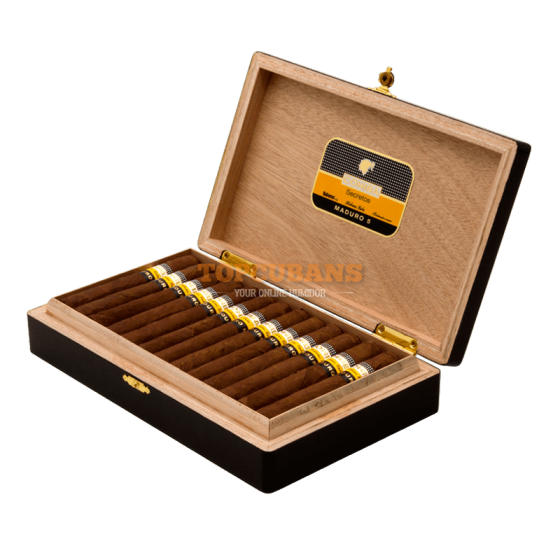 Ring Gauge: 40
Cigar length: 110 mm / 4.33'
Strength: Medium to Full Body
Vitola: Petit Corona
The Secretos is the best kept secret of the Cohiba Maduro 5 line. This cigar is the havanophiles nirvana. A salubrious Maduro wrapper binds Vuelta Abajo tobacco, this is a powerful cigar jam-packed full of beany, peppery aromas and I love how the smoke sits in the mouth. There is no confusion in the construction of this marvelous stogie, its combustion and clean suction allow for a flawless burn and curb the tendency of overheating that this vitola has. Yet I would say save the best for last, and age these glorious puro's for at least two to three years before really getting stuck in!