RAMON ALLONES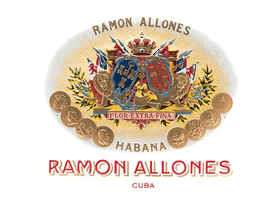 History of RAMON ALLONES
These may not be the best known of the Havana brands, but they are among the most respected by connoisseurs, consistently ranking at the top of the medium priced Cuban cigar range. Rolled in the Partagas factory, which specializes in full-bodied cigars, these cigars will not disappoint those looking for complex, deep flavors. Characteristics of the brand include lovely dark wrappers, excellent construction, perfect burning qualities, a rich flavor and wonderful aroma. For these reasons Ramón Allones vitoles are a firm after-dinner favorite, and for those with a good humidor, these cigars age beautifully.
RAMON ALLONES
Superiores (cdh)
Stick


Ring Gauge: 46
Cigar length: 143 mm / 5.63'
The Superiores is as complex and strongly flavoured as it is characteristic of the Ramon Allones brand. Each of them hold 10 hand rolled Corona Gorda sized cigars. Rare and in high demand.